My interview was at 10am, I arrived a little early but as I read in testimonials (on visajourney for example), no need to arrive more than 15 minutes early because they will not let you in.
I had made the mistake of wearing heels (even if quite small!) but with the heat (I had my interview in the middle of a heat wave) I already had foot pain when I arrived.
I waited in the small park on the other side of the road and went at 9:45. The security guards at the entrance joked with me, but I can't remember on what… but it was a relaxed atmosphere.
After this first security point, I presented my passport, my DS-260, the sealed envelope given at the medical examination and my criminal record.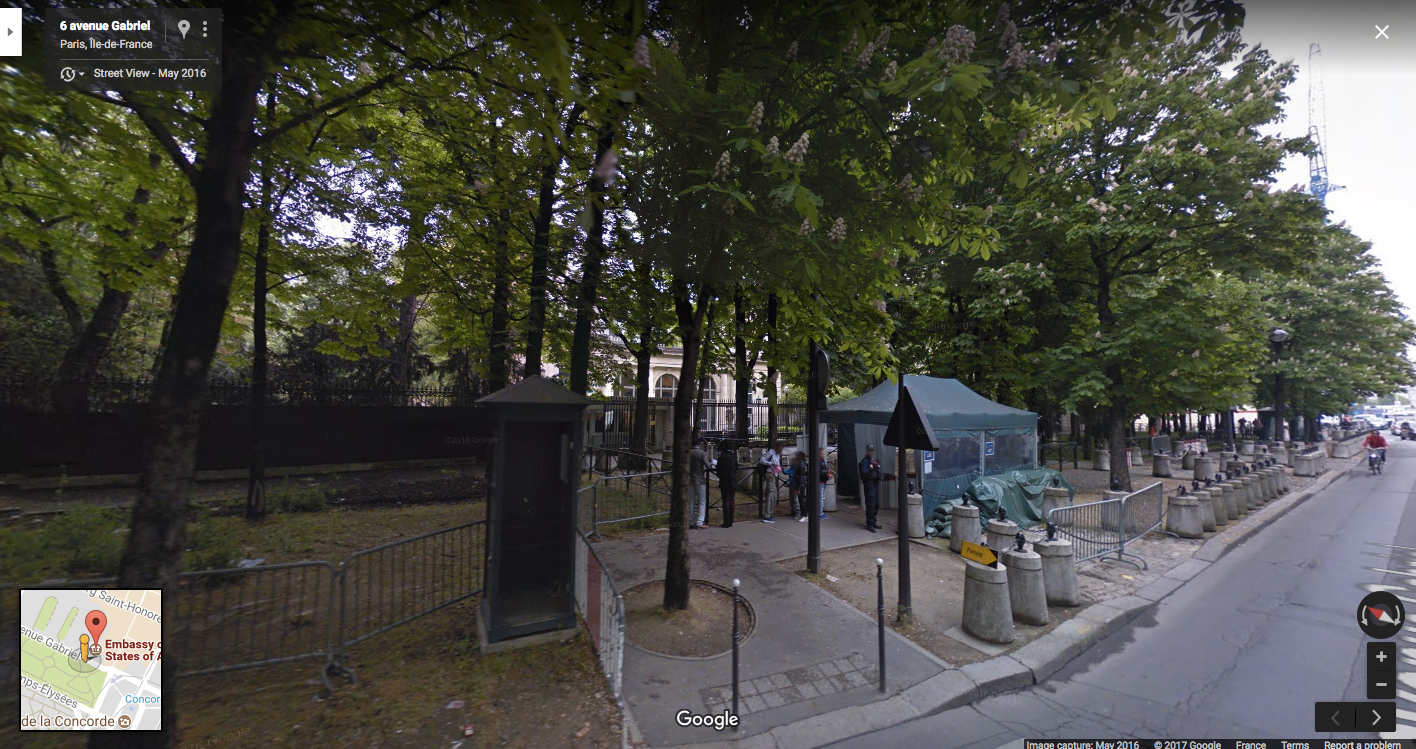 1st security point and verification of your identity and appointments.
You then pass a second security check where they take all your electronic equipment (phone, headphones, and so on) and give you a badge to pick it up at the exit.
Once inside the embassy, an agent signaled me to go in line. There were a few people in front of me (about ten people), and I waited a good hour. The VERY bad surprise (compared to the fact that I did not want to land in flip flops when believe me a lot did not shy away) is that there are no seats! It just did not work out, the only benefit I would say is that I was so much in pain that it completely took precedence over my stress.
When I finally arrived at the first window, they took my fingerprints, checked my documents, gave me back the unnecessary duplicates – we actually already had provided a lot of originals so I did not need to bring all that (but caution is mother of safety …). In the end I think they only needed my pictures, my more recent criminal record and my sealed medical envelope. I have only been asked one question, who is my sponsor (my mother-in-law), is she married and does she have dependent children?
Everything was OK so I was told to go in line for the next window.
After another hour of unbearable suffering wait, I finally arrived at the window for the actual interview!
There is about zero confidentiality because while you are queuing you are roughly one meter behind the people who are interviewing.
I do not know if it's because I arrived with a "Good morning" but my interview was conducted in English while all the other windows were in French.
The Consular Officer was impassive from A to Z, typing on his computer the whole time, stopping only to look at the file and mark a new page with his pen. He did not ask a lot of questions and kept typing at the same time. The annoying side for me is that I have a weak ear and I have a lot of trouble hearing 1) behind a thick glass 2) with noise around (as I was saying people waiting are right behind you ).
He asked me:
How long have you been married?
What's his job?
How did you meet?
When did you start writing?
How many times have you seen him?
Where did you get married?
What is your mother-in-law's job?
Do you stay at his mother's when you visit?
Will you live with her?
There was just a moment when he apologized and left for a minute, so I was afraid he had discovered a problem with our file, but he came back alone and continued typing.
After all these questions, he joined his hands and leaned a little towards me/the window and said "I guess you do but I have to ask you, are you aware of his legal situation?" I answered "Yes" and I was expecting other questions on the subject to follow but he said "Looks like everything is okay, your visa has been approved, you'll receive it in about ten days".
I didn't even know how to react on the moment, I just said "okay …". He did not ask for any proof of relationship or anything extra. I happily thanked him and greeted him all the same, but my foot pain prevented me from doing my little victory dance in the bathroom.