After successfully completing the USCIS and NVC steps, your file is sent to the US Embassy in Paris (or wherever you're from).
Almost 3 weeks after having our Case Complete, we finally received the "Packet 4", which contains the date and time of interview, a reminder on the last necessary steps and a checklist of papers to bring to the interview.
I do not think I said it before because it must have seemed obvious, but all correspondence/information is in English.
First, go to nvc.state.gov/interview to download the PDF corresponding to your embassy (Paris for us) which explains everything in details.
Several steps are included in this step 3:
You have to confirm your interview appointment online and register the address to which you want to receive your visa.
You must have a medical examination with one of the accredited doctors (two options in Paris) – the examination costs 300€.
BE CAREFUL, it's a step you prepare in advance !!
Before going to the medical examination:
– Check with your primary care doctor you are up to date with your vaccines in the US standards (not the French -or your country- ones).
– You must go to one of the accredited laboratories to have a urine test and a blood test (for syphilis and gonorrhea tests) – 2 x 30€.
– You must have a chest x-ray in the only certified center – 40€.
It is possible to do everything in one day, doing the tests and the x-ray early in the morning so that the doctor receives the results in time for your appointment in the afternoon, but personally, I did not want to stress unnecessarily about the deadlines. So if you can afford it, spend an extra day in Paris, and take your tests the day before your medical visit. An intention that was confirmed by 2 testimonials of girls who had some stressful setbacks to get their results on time!
Gather all the documents on the checklist.
– These are more or less the originals of the papers you have provided to NVC.
– Remember to request a birth certificate and a copy of your criminal record in the 3 months preceding the interview because you need recent ones.
– You need to ID pics in the American format (5 x 5 cm).
– Bring new evidences of relationship, especially to show that the relationship still exists, since it has been months/a year from the moment you started your visa process!
Pass the interview!
You are announced face to face if your visa is approved (or not).
I will detail mine in a future post, but you can easily find other shared experiences online.
If your visa is granted, your passport will be kept and your file will update to Administrative Processing. Not to be confused with the AP that some complicated case files face. Here, it just means that your visa will be printed.
You can follow the evolution on the CEAC website.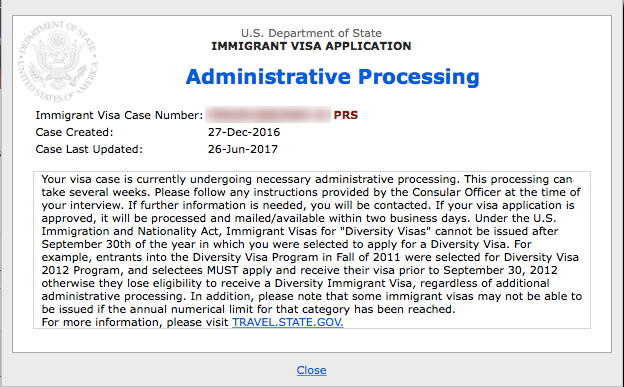 After Administrative Processing, it will change to Issued. You just have to wait to receive your passport with your visa at home! It will also be accompanied by an envelope that must not be opened and that will be given to the agent at your Point of Entry in the USA. You must then pay the last $220* Immigration Fee (the cost of your Green Card).
* as always, fees vary from one year to another so check them here.