Once step 1 is behind you, your file is sent to the National Visa Center.
Second step: NVC
The NVC receives your file and assigns it a case number.
The petitioner (US Citizen) and the beneficiary (and the lawyer if there is one) receive the invoices for the fees, the Affidavit Of Support Fee ($120 last December) and the Immigrant Visa Application Processing Fee ($325 in December ). Since we had a lawyer, he was the one who made the payments online.
In the same email, you also receive the cover sheet of the case file that you must put together (and which list all the documents you need to provide).
Once the payments are cashed, your DS-260 is generated (see below).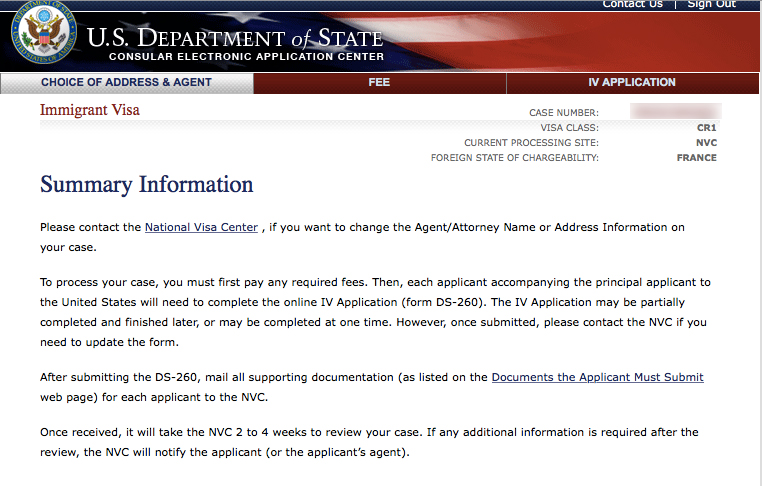 There are then 2 "requests" to manage simultaneously.
The DS-260 (there is no order, you can start with this one or the other).
This is an online questionnaire that you fill out on https://ceac.state.gov/IV/Login.aspx with your case number and your invoice number. Watch out, it's long! Fortunately, you can save it and fill it in several times.
The information to provide:
Family information: your parents, their addresses, the same for your spouse.
ALL your addresses since the age of 16 (TWELVE for me !!!!!!) and your future American address.
The list of your trips to the USA and their duration.
You must answer security questions (similar to those you answer on your travels).
If you have or want a social security number.
Information about your current job or the list of your previous jobs.
Once you have completed everything and re-checked (several times and with a rested head!), you submit.
The I-864 packet.
To build this packet, you must follow the instructions of your cover sheet. The papers depend on your situation and what you have already provided in your initial file.
Here is a list of what is needed:
Affidavit of Support of your sponsor/s, IRS Tax Transcripts, W2 or other evidences of incomes.
Proof of Relationship (Marriage Certificate)
Proof of US statut (US spouse's birth certificate or passeport)
Birth Certificate of the alien spouse and its certified English translation.
Criminal record of the Alien spouse (from all countries where you have lived more than 6 months since you're 16 years old, so I had to provide one from Denmark) and its certified English translation (this translation does not seem obligatory , but we did not want to take risks).
Copy of the valid passport (valid for more than 6 months after the planned departure) of the Alien citizen.
You then send it by mail and the day your file arrives at the NVC is what is called your Scan Date (the day the file is entered into the system). Then starts the wait again, which used to be short (between 2 and 4 weeks) before but can sometimes go up to 12 weeks (we waited 9 weeks) since your Scan Date.
If you have forgotten a document… it's horror! You will receive a checklist and it will be necessary to provide these documents as soon as possible BUT the date of their arrival at the NVC will be your new Scan Date so… yes, you have guessed right, you must wait again for a similar amount of time!
Once everything is OK you finally have CASE COMPLETE (you receive a letter/email)! At this point, you can begin to relax, because you fulfill all the administrative and financial conditions to obtain the visa (but there is still the medical visit and the famous interview).
Your file is then sent to the embassy.