The day started with a challenge… I called myself the "DIY bride", because, except in these circumstances, I don't think a lot of brides have to do their hair and make-up, and drive themselves to the ceremony in their fluffy dress. In the morning I got up on time and was on schedule until I kept messing up my make-up and started sweating like I never did before, and needed air I was unable to find (nor outside, nor with the AC). I was still in my towel getting worried I would not be on schedule anymore very soon and I decided to take another quick shower because I was just feeling disgusting, and this is not a feeling you want on your wedding day. I made one last attempt on my make-up before jumping in the bathtub and desperation was my lucky charm I guess: I was good to go (well, after that quick shower though :p ). I still had to do my hair but I was lucky to have a bridesmaid to actually do it for me. And to also help my mom with her own make-up. We left right on time! I was confident everything was going to be fine.
I was so wrong! We got to the prison alright but we were supposed to be allowed 6 guests + me for the visitation and the ceremony (happening after visitation at 3 p.m.) and we had an authorization for an extra person, but once at the gate we were told only 3 could come in. After one phone call we were told the captain would let us all come in. So we started being processed, 4 people got in with me (my mom, my friend, his brother and his ex sister-in-law). We were unsure what was going on but it looked like somebody changed their mind again and the others couldn't get in. We had to keep going forward with no explanation. I was also stopped on the way (after the pat search) because "THAT (hand circling around my chest), is not allowed". I was still adjusting my dress and cardigan but my dress had a "square" neckline so I wouldn't say I had a big cleavage but I do have boobs -_- – anyway I had to keep my cardigan closed the whole time. Not my biggest issue or concern with our guests behind… I knew it (the guests situation) could happen, but I was expecting that extra guest to be an issue, not that they would remove 2 people from the initial 6 regular guests everyone is allowed to have for a wedding! I had to tell the news to Alan when we arrived so that didn't put us in a good wedding mood. I stayed pissed a long time because we just didn't know what was going on with the others, we were told we had to take turns but we didn't make any arrangement with them and we didn't even know if they were still here. Later we found out they were and we could switch 3 guests for the 3 guests waiting outside, and that everyone will be able to come back at 2:30 to attend the ceremony. When this finally happened, I was able to calm down. I was also anxiously waiting for the notary public to arrive, that whole day gave me the vibe that this wedding wasn't happening. Getting closer to the time, I was feeling a little sick, like my stomach made its way to my throat and I was afraid I was going to throw up. I can't really explain that since I never had any doubt about marrying him, so I assume it was more the stress of being the center of attention or maybe just the nerves after that disappointing day.
Once everyone (notary included) was in place it turned from shitty to perfect.
Alan had to sign the License first, so I watched that carefully :p and we were ready to go.
It was a little surprising to me that so "many" guards would be attending. There were 4 of them + the Duty Warden. The photographer (an inmate from General Population) was here too, to take pictures during the ceremony (which I wasn't sure we could do so that was great) and after.
Them and our family made an arc of circle around us. The notary started with a greeting, and it immediately made me realize it was actually happening and it became very serious to me. Not that it wasn't serious in my mind already but hearing those words was very special and it made the mood switch from visitation to union. Then a prayer. We all bent our heads down. A. and I both looked at each other once at the same time, which made me smile and was a extra short moment of complicity that made me connect to him and sort of forget the environment – we are respectful of religion but not very religious, though the reading from the Bible she did after was great for us :
« Love is patient, love is kind. It does not envy, it does not boast, it is not proud. It does not dishonor others, it is not self-seeking, it is not easily angered, it keeps no record of wrongs. Love does not delight in evil but rejoices with the truth. It always protects, always trusts, always hopes, always perseveres. […] »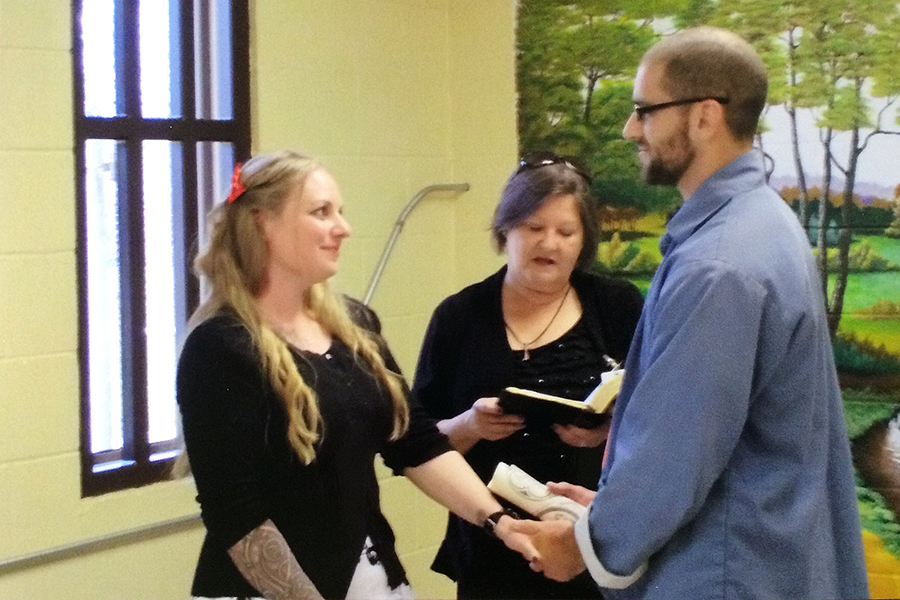 Then came the time of the "repeat after me vows", the words were perfectly on point again ("[…] I will trust you and respect you, laugh with you and cry with you. […] »). I was really feeling and meaning every word I was saying. And she respected my request to change « Til Death Do Us Part » with « Forever ».
She then asked if we had vows to say to each other, and I asked if I could go first. I had a card with them on it but I didn't want to read, it was just to make sure I wouldn't forget anything important but I wanted to look at him. I started but had to stop quickly "I want to hold your hand", I said, trying to forget about all the eyes on me to be able to get through. During the repeat after me vows I was already emotional and it became huge when it was our own vows. It was intimidating and very important to me that I told him these things (we both have troubles to express our feelings "out loud" sometimes though we are always getting better and we both thought this could be a liberating moment for us). I was doing well but in the middle of a sentence I had to pause to breath and start again. I couldn't even look at our guests, I wasn't sure I would be able to finish otherwise. I kept looking at him and I loved reading his face as the words came out of my mouth. I took a quick look in front of me when I reached the end and saw that many people were crying, including a guard who was wiping his eyes (yes, they are human too). It was then his turn but it seemed he couldn't look at me while reading. I could see his lips trembling and I was trying to have the most encouraging gaze on him in case he needed that… His emotion was so strong and moving. The hilarious part was that our vows were pretty much the same, we even used the same references (personal references that we used in more general sense so everyone could understand their meaning). It was awesome and if anyone ever doubted our bond I don't think they can do it anymore after hearing those vows.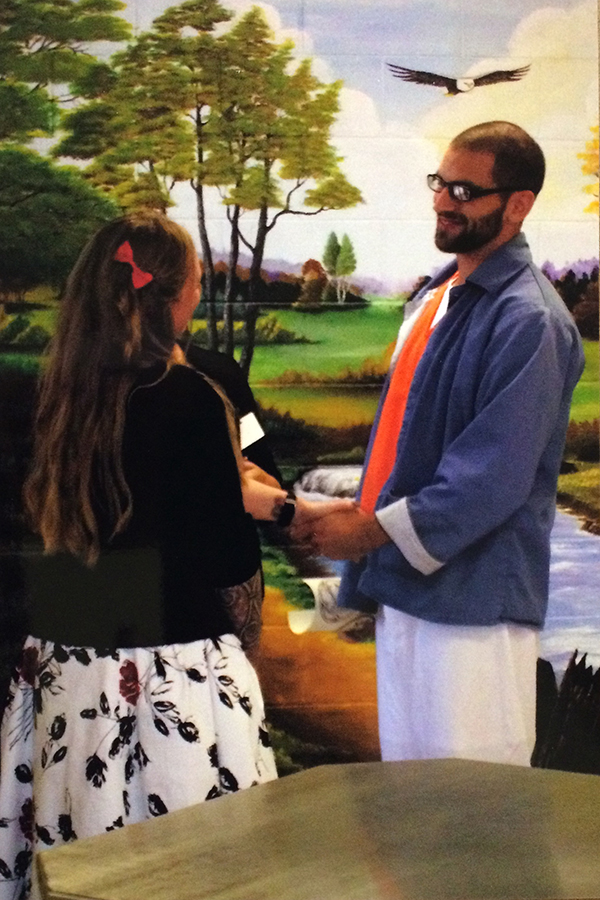 Then the notary asked for the rings (that we entrusted his niece with), explained what they symbolize, and we exchanged them. She then pronounced us husband and wife and we were married! (and we kissed ^^)
We took the last pictures all together, the witnesses signed the license, and while the pictures were still printing we already had to leave…